THICKER AND STRONGER GARDEN BAGS
Our garden waste bags are made of durable and tough polypropylene (150gr / m2) and are tear resistant and moisture resistant when filled with grass or wet soil.
LARGE STORAGE CAPACITY
Our garden bag has a capacity of 272 L which can support up to 80 kg of herbs or branches.

Collect leaves and garbage from your garden with this garbage bag.
The 3 handles on the sides allow easy transport and emptying.
The plastic strapping at the opening of the product allows the bags to stand upright and open.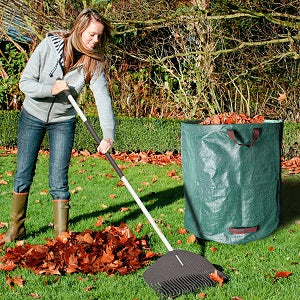 SPECIFICATIONS:
Material: Polypropylene - 150gr/m²
Size: 67x76cm
Capacity: 272 Litres / 72 Gallons
WARNING:
Be careful not to leave garden bags exposed to the sun for too long time, since it will shorten the life of the product
TIP:
For mowed grass, roots or wet soil, it is recommended to fill the bag only halfway with a reasonable weight. For dead leaves, straw or branches, there are no worries to fill the bag to the maximum
PACKAGE CONTENTS:

3 x large garden waste bags
---